Some Brides choose to have an entourage of bridesmaids beside them on their wedding day. Others opt for one or two. Either way, dressing your closest female friends can be an arduous task! For one, it's an uncomfortable prospect dictating to another woman how to dress, quite aside from selecting a style to compliment their personality and shape. Should a Bride choose an outfit that reflects them, or their maids? Should you consider the type of venue, for example styling for a unique wedding venue such as a castle wedding venue? Bridesmaid style these days is ever evolving in order to help address this conundrum.
Here are 5 styles to help you dress your bridesmaids in a way that keeps everyone happy.
Mis-match
 At one time, dressing your bridesmaids in different colours and styles was a big taboo. These days it's trending. After all, why would one dress differently shaped women in an identical dress? Surely they're never all going to look and feel great? Mis-matching also gives scope for creativity. If you're a Bride who cares about your bridesmaids feeling themselves on your wedding day, mis-matching is the way to go. If you're afraid to go too far, perhaps offer a template or brief for your maids – for example, all shades of blue and all long dresses. There can still be plenty of scope within a little regulation.
Prints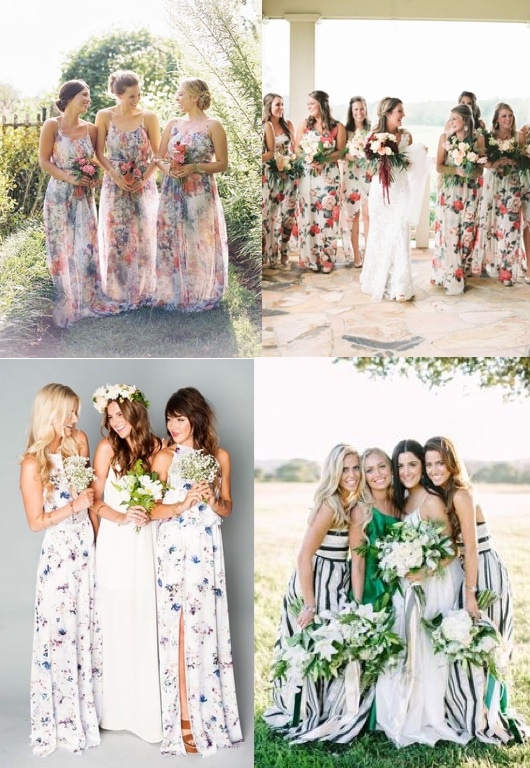 Again, once upon a time, putting bridesmaids in anything other than peach chiffon was absolutely unheard of. But prints are interesting, creative and bring colour and vibrancy to a wedding. Vintage florals, Hawaiian botanics, retro swirls – prints are for the Bride with real character and sass.
Brights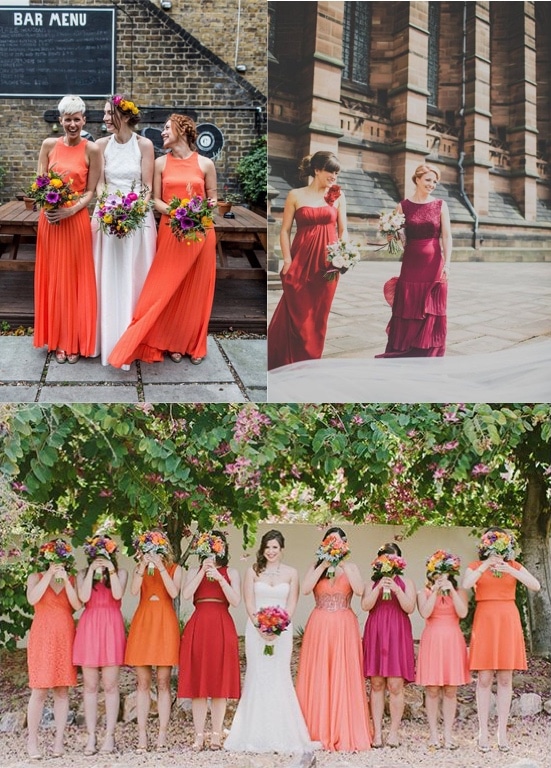 Stand out from the crowd of insipid blushes and dulled neutrals and dress your girls in neon brights. That way, everyone knows who the bridesmaids are! No blending into the crowd here, brights are a perfect way of livening a winter wedding, or complimenting a summer wedding. Be mindful, however, of your maids skin tones. Neon green on a milky white complexion could easily make a poor maid look very ill indeed.
Sparkle
Some Brides feel that 'The Dress' is all about them and want to make sure that they are not outshone by their bridesmaids. Understandable, but you may not be one of these people. So why not let your bridesmaids really dazzle in beads, sequins and diamante. Designer Jenny Packham popularised beaded wedding gowns back in 2010 but since then the trend has passed through to the rest of the bridal party and we are seeing more and more maids echoing the glamour of the 1920's era. Letting your girls sparkle is a wonderful way of thanking them for standing with you on your wedding day.
Skirts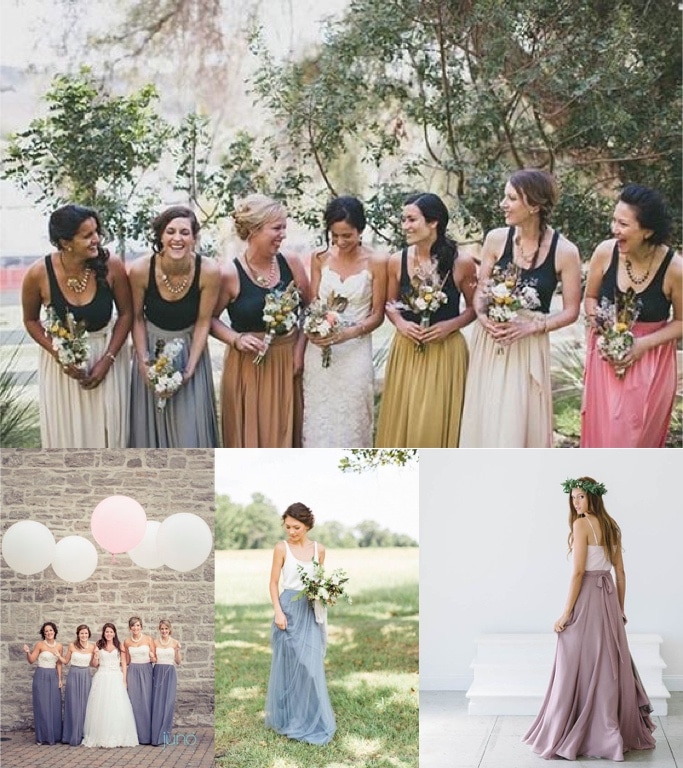 Last but not least, why do you need to opt for bridesmaid dresses at all? At the end of the day, you're the Bride, technically you can do what you like. But skirts can be pretty magical. If you're treading the line between keeping tradition by matching your bridesmaids but want them to reflect their own personal styles as well, why not match their skirts and mis-match their tops? Win win!
Lets face it, there have been far too many dreadfully attired bridesmaids over the centuries and far too many desperately unhappy bridesmaids as a result. Be kind to your maids and let them feel special as well on your day.
Useful links