You'd be forgiven for feeling a little down in the dumps with the end of Summer, the classic British drizzle/torrential rain and plummet in temperature. We are here to save the day and cheer you with 5 delicious, warming, zingy Autumnal cocktail recipes! Our previous blogs on Winter Cocktails, Spring Cocktails and Summer Cocktails have gone down a treat. Our missing ingredient is this season's cocktail ideas for your wedding. Try them out immediately to wash away your Autumnal blues.
Mulled Pear & Ginger
Ingredients
2 litres Cloudy apple juice
2 thumb-sized Ginger pieces, sliced
2 Ripe pears, sliced
2 Cinnamon sticks, plus extra to serve
4 Cardamom pods
3 tbsp Light brown sugar
Juice of 4 limes, zest of 2
500ml Bacardi Oro
Instructions
Pour the apple juice into your biggest pan, then add the ginger, pears, cinnamon, cardamom and sugar. Add the zest and juice of the limes, bring everything to the boil and simmer until all of the sugar has dissolved. Serve warm in glasses or mugs, with a good shot of spiced rum and a cinnamon stick.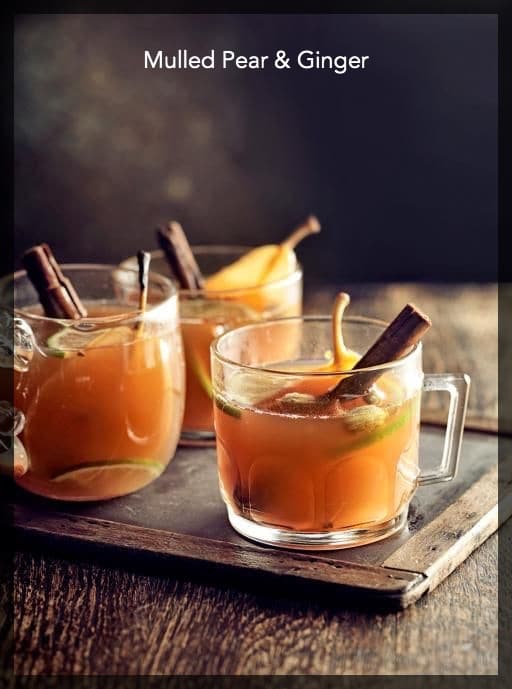 Mulled Blackberry Wine
Ingredients
350g Blackberries (fresh or frozen)
300ml Apple juice
50g Caster sugar
4 Cloves
½ Cinnamon stick
1 Vanilla pod (or 1 tsp vanilla extract)
750ml Bottle red wine
optional – fresh apple for garnish
Instructions
Set aside 12 of the blackberries for garnish, and place the rest in a large saucepan. Add the apple juice, caster sugar, cloves and cinnamon stick, then split open the vanilla pod, scrape out the seeds and add both the pod and seeds to the pan. Bring to a boil and cook for 4-5 minutes until reduced and starting to turn syrupy. Reduce the heat, pour in the red wine, then heat gently for 5 minutes until steaming, (but not bubbling). Strain the mulled wine through a sieve to remove the blackberry seeds, mashing any juicy bits through the mesh with a fork.
Skinny Passion Fruit Mojito
Ingredients:
1 Fresh passion fruit
4 Pieces of lime
10 ml Agave syrup
6 Mint leaves
25 ml Havana 3yr Rum
Half a passion fruit, for garnish
Mint sprig, for garnish
Instructions
Muddle 1 fresh passion fruit in a glass with 4 pieces of lime, add 10ml agave syrup, 6 mint leaves and 25ml Havana 3yr Rum. Top with crushed ice, churn so it melts a little, then add more crushed ice. Garnish with a mint sprig and passion fruit wheel.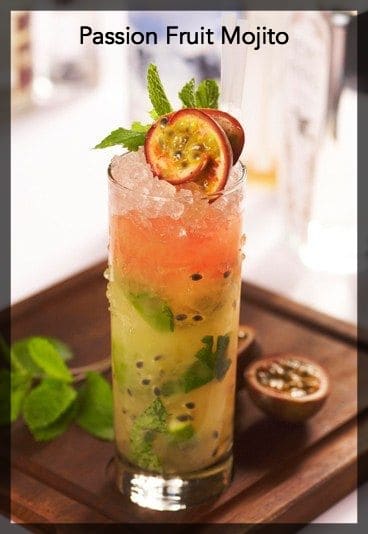 Blackberry & Vanilla Vodka
Ingredients
500g Washed fresh blackberries
500ml Vodka
3 Vanilla pods, split in half lengthways to expose the seeds
100g Caster sugar
Instructions
Combine everything in a large, airtight sterilised Kilner style jar, seal and tip upside down a few times to agitate everything. Place in a cool, dark place and tip the jar upside down every day a few times for the first week then every couple of weeks or so to help the sugar dissolve and mix everything together. You can now leave this to infuse for at least three months (perfect for preparing in advance) before straining the alcohol through some muslin to remove the berries, these will now be highly boozy so can be used to make a pie – definitely not for the kids though! Taste your infusion. It is at this stage that you can choose to add more sugar if you want it a bit sweeter then pop it back in the cupboard, agitating every now and then until the sugar has all dissolved.
Once you are happy with the flavour use a funnel to pour the liquid into sterilised bottles, seal and you can either drink it now or if you have the will-power try and keep them for at least a year. I have concoctions that date back way longer and they really do improve with ageing.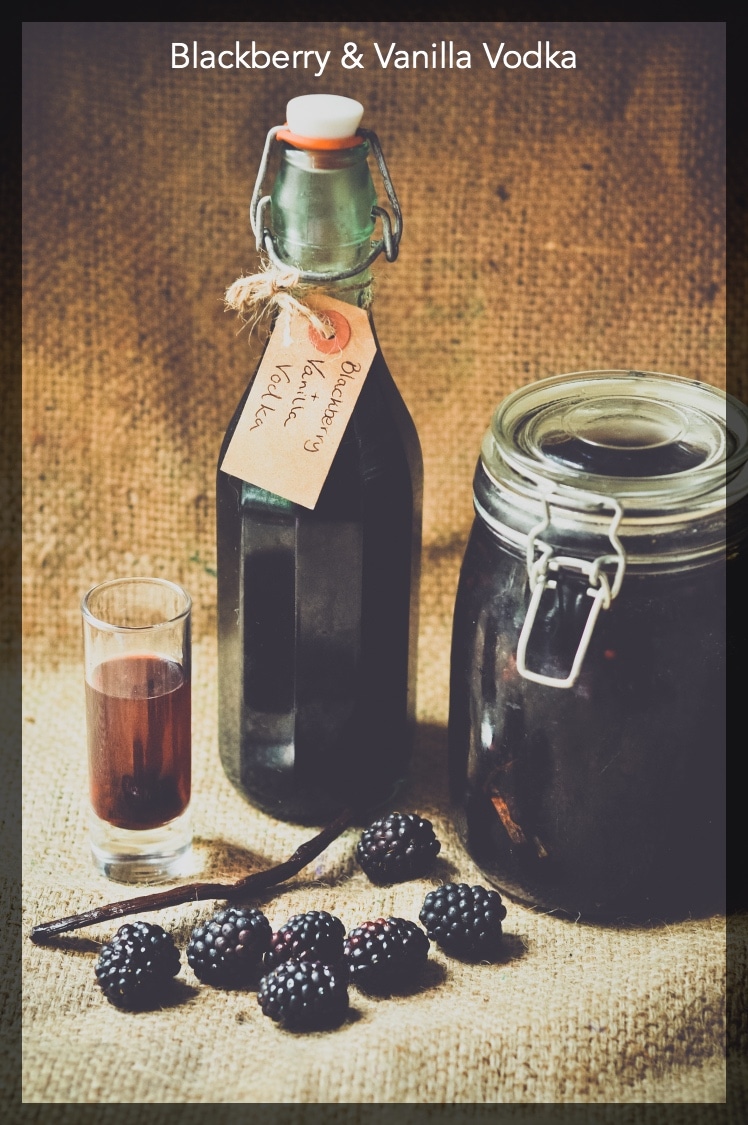 Brandy Apple Cocktail
Ingredients
50ml VS Brandy
200ml Cloudy Apple Juice
100ml Ginger Ale
Ice
Instructions
Fill a glass with ice. Pour over the brandy and apple juice. Top with ginger ale. Garnish with a slice of apple. For a warmed version, heat the apple juice and brandy, pour in to mugs then top with the ginger ale.