Choosing Your Wedding Wine And Champagne
Choosing the wine and champagne to serve for your wedding reception is an important part of planning.
Selecting the perfect wines can help set the overall tone and mood for your special day.
Remember certain varieties tend to pair nicely with different foods and seasons!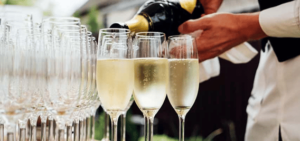 Sampling a variety of wines before your big day is also a good way to determine which types you'd like to serve as well as which ones will pair nicely with the foods on your menu.
Your caterer will be able to guide you through the process.
Red Wines
Here are some popular types of red wine you may consider serving at your wedding reception:
Merlot
Pinot Noir
Cabernet Sauvignon
Syrah or Shiraz
Zinfandel
Grenache
Sangiovese
White Wines
Next, here are some white wine varieties commonly served at wedding receptions:
Chardonnay
Pinot Grigio
Riesling
Sauvignon Blanc
Viognier
Rosé Wines
Here are some popular types of rose wines for weddings:
Pinot Noir Rosé
Tempranillo Rosé
Syrah Rosé
Cabernet Sauvignon Rosé
Sparkling Wines
Finally, here are some common types of sparkling wines you might consider serving at your wedding: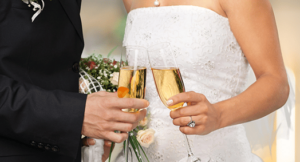 How Much Champagne Should Be Bought for a Toast?
Purchasing champagne or another sparkling wine for a wedding toast is slightly different than buying regular drinking alcohol for the bar. Though the toast is a special part of your wedding day, it's likely that most of your guests won't drink more than half a glass — therefore, you won't need to buy as much champagne as you would other wines.
You will need  to purchase enough champagne or bubbly to fill about a half of each glass. A helpful ratio to follow is one bottle of champagne for every 8 guests.
Why not take a look at the other wedding blogs on the website for more inspiration!