With the success of our last Cocktail themed post during the Winter, we thought a follow up of Springtime wedding cocktails might be helpful. If you would like to exchange the customary glass of Prosecco at your drinks reception for some delicious and alcoholic springtime magic in a glass, simply hand these recipes to your catering team and bar staff. Be sure to try them out at home beforehand …..
Cherry Blossom Cocktail
Serves 1
1 3/4 oz gin
3 1/2 tablespoons cherry jam
1/4 oz lemon juice
1 bar spoon simple syrup
Add all ingredients into a shaker with ice. Shake vigorously to break up the jam for 15 seconds. Using a hawthorn strainer into a coupe glass, double strain through a tea strainer to make the cocktail more clear. Garnish with organic cherry blossoms or other edible flowers like rose petals.
Cited from Design Sponge
Water-Melon Mojito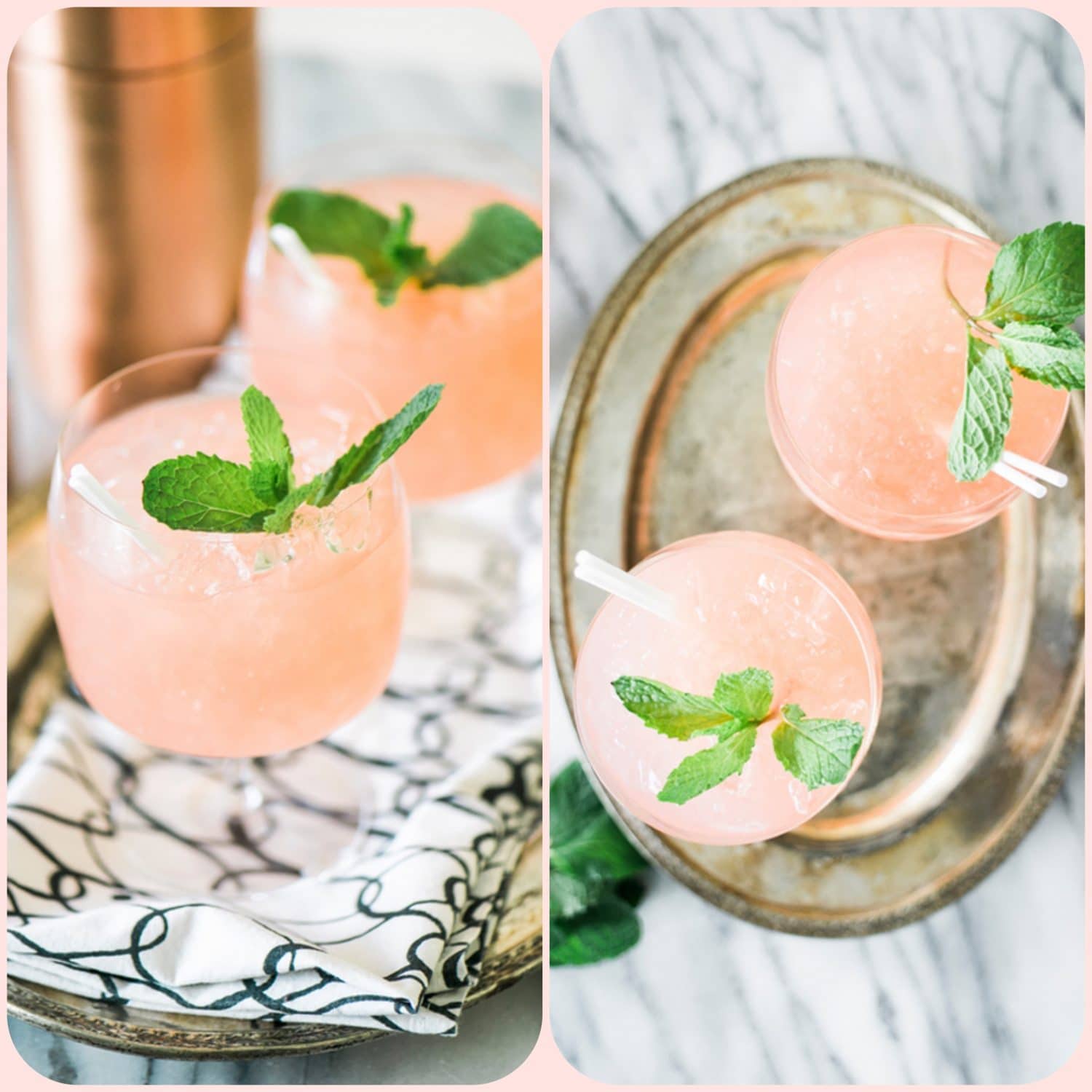 1/4 cup of watermelon
the juice of 1 lime
2tsp honey
3 mint leaves in a small pot
Combine the above then stir until warm and combined. Allow to cool. Store covered and refrigerate.
To mix the cocktail, combine 2 oz of the cooled watermelon simple syrup mixture with 2 oz rum and 3 oz sparkling water. Garnish with a mint spring and frozen cubes of watermelon.
Cited from A Subtle Revelry
Strawberry Gin Smash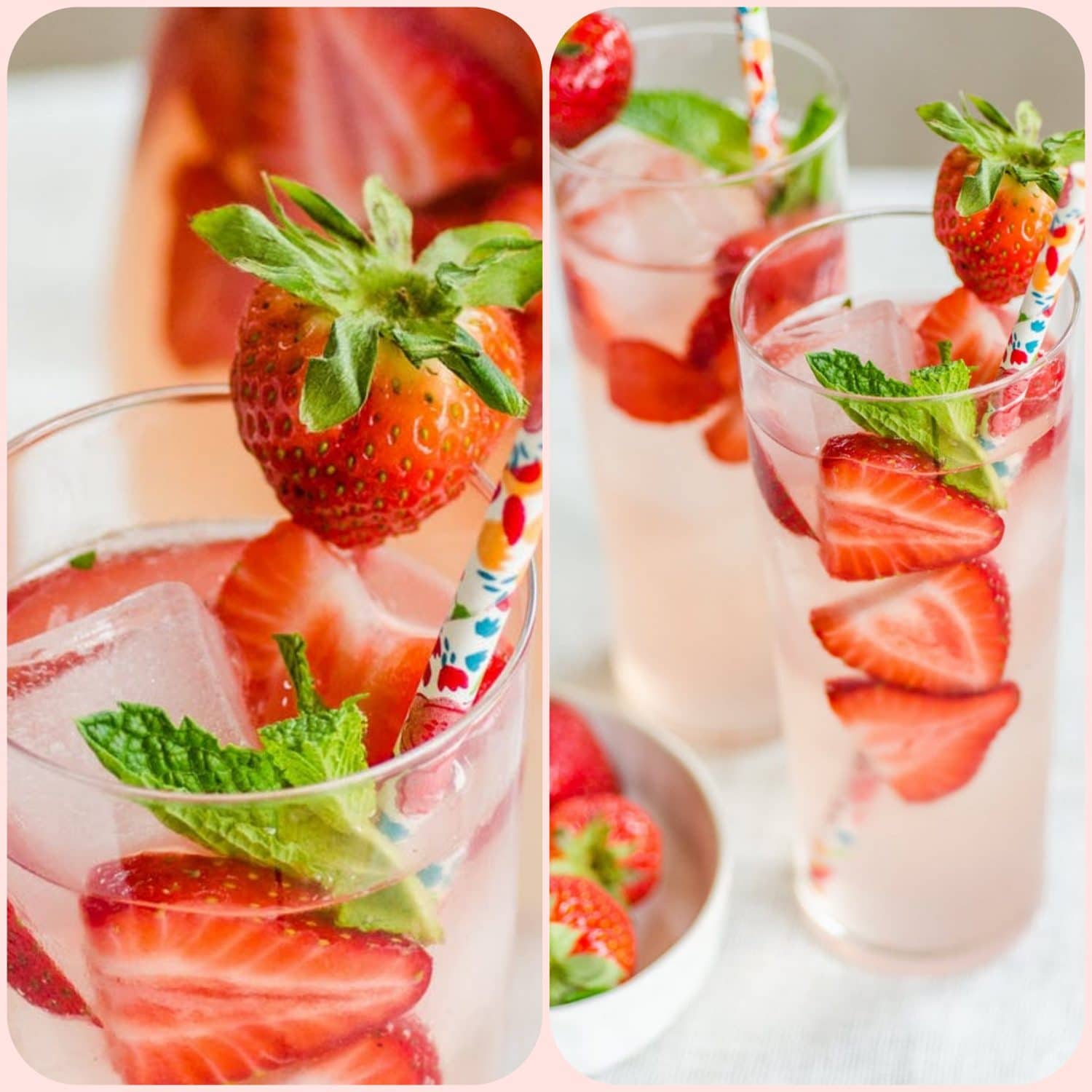 1 Pitcher of Strawberry Gin Smash – Serves 8
2 tablespoons sugar
2 limes, juiced, about 4 tablespoons
1 pound fresh strawberries
2 cups gin
3 cups club soda
Fresh mint sprigs, to garnish
Mix the sugar and limes in a pitcher that holds at least 8 cups (64 ounces). Set aside 6 to 8 small strawberries and make a small slice in their tips. Pit and slice the remaining strawberries and muddle the slices lightly with the sugar and lime juice.
Stir in the gin and club soda and pack the pitcher full of ice. Add mint sprigs to garnish. Pour into ice-filled glasses and garnish with a strawberry, slotted onto the edge of the glass.
Cited from The Kitchn
Orange & Sage Vodka Tonic and Lemon & Lavender Vodka Tonic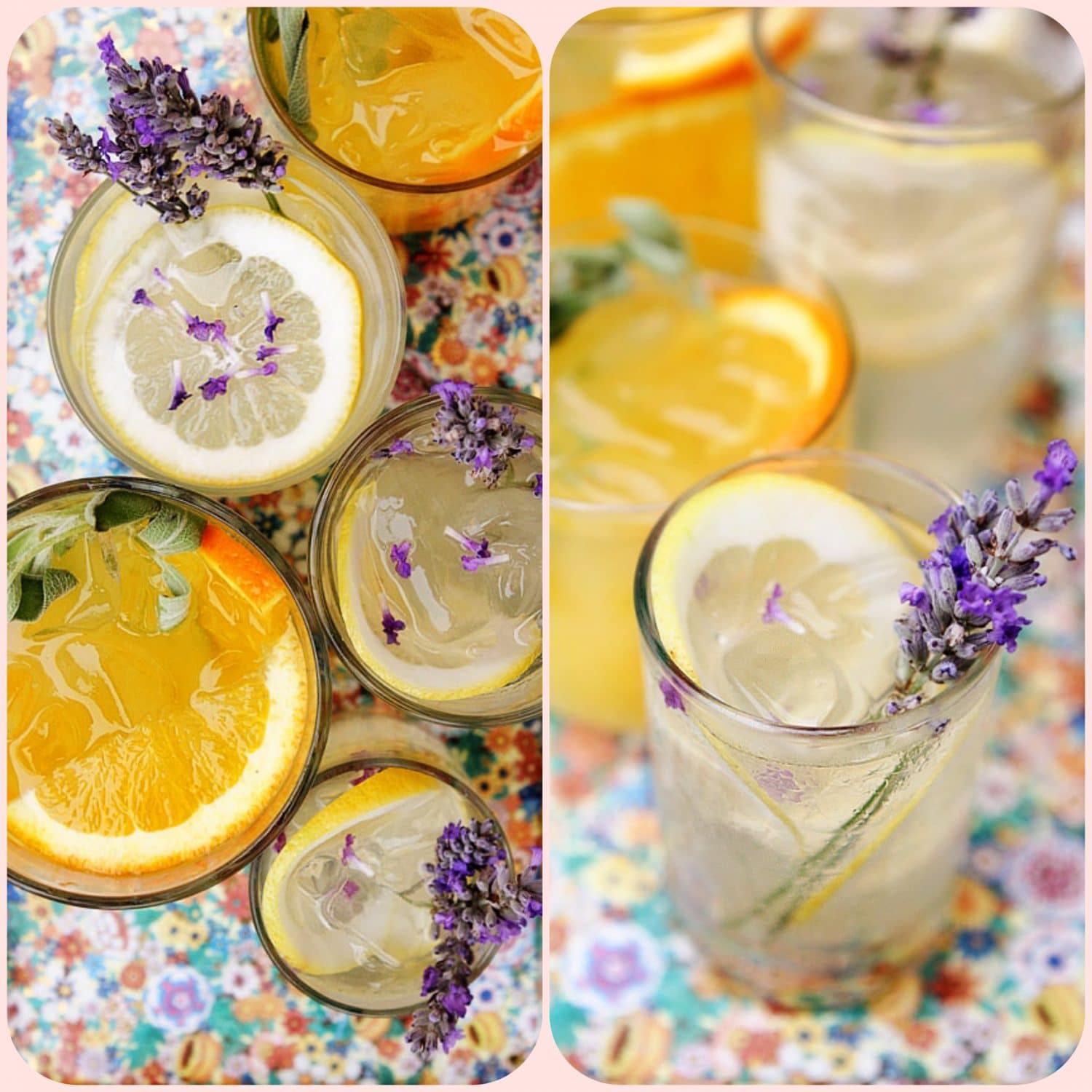 To make Orange & Sage Vodka Tonic
1 sage large leaf (plus more to garnish)
3 oz. vodka
6 oz. Orange Pellegrino
2 orange slices
Place one sage leaf and vodka in a glass. Muddle sage leaf. Place ice cubes in glass.
Fill with Orange Pellegrino or with tonic water (if using the later, add 2 oz of fresh orange juice) and
stir. Garnish with orange slices and remaining sage leaves.
To make Lemon & Lavender Vodka Tonic
A few lavender flowers (plus more to garnish)
3 oz. vodka
6 oz. Lemon Pellegrino
2 lemon slices
Place lavender flowers and vodka in a glass. Muddle lavender. Place ice cubes in glass.
Fill with Lemon Pellegrino or with tonic water (if using the later, add 2 oz of lemon juice) and stir.
Garnish with lemon slices and lavender.
Cited from Bakers Royale
Sparkling Grapefruit & Rosemary Cocktail
For the syrup – Makes 1/2 cup
1/2 cup granulated sugar
1 cup water
1 teaspoon rosemary leaves
In a medium saucepan, combine the sugar and water. Bring to a boil over medium-high heat and reduce to a simmer. Simmer for about 10-15 minutes or until syrup reduces to about 1/2 cup.
Remove from heat and stir in the rosemary. Let steep in syrup for at least 20 minutes, or until cool. Strain syrup through a fine mesh strainer to remove rosemary leaves.
Store in an airtight container refrigerated for up to a week.
For sparkling grapefruit rosemary cocktail – Makes 2 servings (double or triple for a crowd)
A handful of peeled grapefruit (~1 tablespoon)
A sprig of rosemary
2 oz vodka
1/4 cup freshly squeezed grapefruit juice
3-4 ice cubes
2 oz simple rosemary syrup, more to taste
1 cup sparkling water
In a tall glass, add the grapefruit and rosemary sprig. Muddle gently to break up grapefruit. Add the vodka, grapefruit juice, ice and simple rosemary syrup to the glass. Top off with sparkling water and stir. Add more simple rosemary syrup to taste. Enjoy immediately!
Cited from Kitchen Aid Blog