We've spent a lot of time this year so far focusing on Brides, their dresses, their needs and their whims, but what about the stylish groom? We hope you'll forgive us Gentlemen, especially when we are sympathetic to the fact that the wedding industry can be so female orientated and focused. Your needs are just as important and we appreciate that your journey to find the right wedding outfit for you is equally as ambiguous.
There is a distinct lack of guidance out there for the men. Occasionally life it made a little simpler for you when a wedding theme has been decided upon and your choice is therefore narrowed down somewhat, to say a morning suit or black tie. But when options are left open you are left with a number of distinctive styles that don't necessarily work for every gent. For instance, the tweed suit, blue suits, casual linen attire and bold prints and braces.
If you are a Groom who simply wants to look his best on your wedding day, without seeming to have tried too hard, but also with a hint of originality, here are our top tips on how to go about this arduous task:
Consult a Tailor
You may see it as an unnecessary spend, for a suit you imagine you'll only wear that once, but there is nothing more becoming on a man than a well fitted suit. You deserve to have your attire 'tailored' to your build and frame and not have to adapt yourself to fit into a piece off the rack. Shop around, take people who's opinion you trust and respect and make sure your chosen tailor has a proven reputation.
Check the Material of your Shirt
A shirt may look pristine and perfectly pressed on the hanger, but put it on and move about in it for five minutes and you may find that it creases frustratingly easily or shows up perspiration immediately! It's worth researching into which materials will weather the trials of the day, as well as look and fit you well.
Three Piece Suits are always a Winner
Whether you mix and match waistcoat, trousers and jacket or go for a complete set, the classic three-piece suit is a fool-proof staple that will see you through occasion after occasion. It offers you variations throughout the day – take your jacket off and you have an immediately different look. It's sincere, understated and smart without being too formal.
Don't Leave Shoes until the Last Minute
You may laugh, but this happens A LOT to grooms, where the week (or even day) before the wedding he suddenly realises he hasn't picked out a suitable shoe. The shoe can be the finishing touch of excellence or ruin what would otherwise be a winning ensemble. Again, it is so worthwhile investing in a good quality pair of shoes, that are comfortable and hard wearing. Give yourself plenty of time to check they work with your outfit and also to wear them in.
Make Friends with your Florist…
…and ask to get involved in the creation of your boutonnière. This can then be your little piece of individuality, your personal stamp on your outfit and your wedding. You can also then control that it fits perfectly with your ensemble.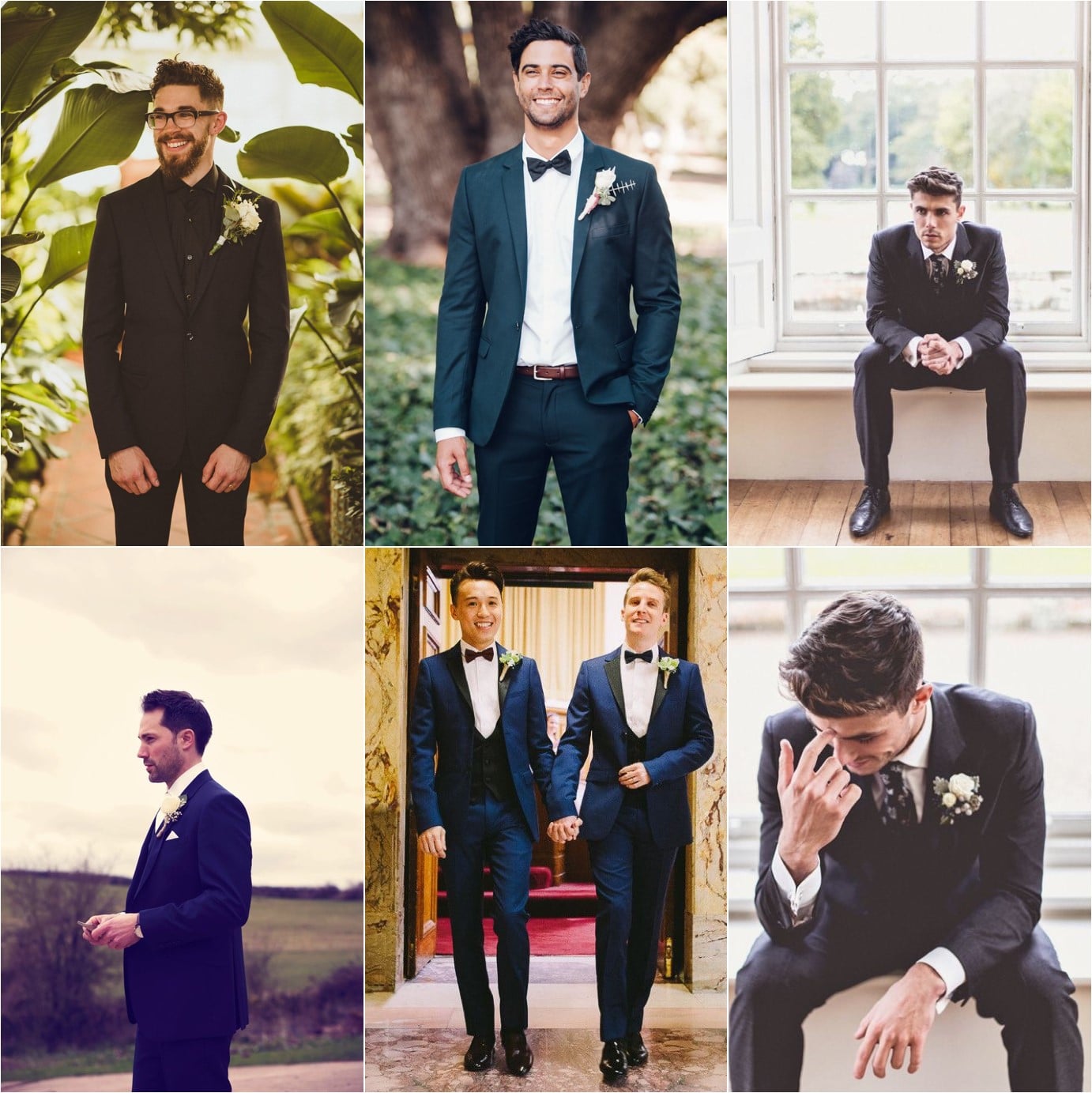 Don't Forget your Cufflinks!
Enough said!
Be Yourself
We would encourage you not to try too hard to create a style that is not true to your everyday self, for the sake of making an impression on your wedding day. It's important that you are able to look back at your wedding photographs and recognise the man in the pictures. For instance, if you lean towards a clean colour palette and staple wardrobe items, it may not be wise to try and force yourself into moss green tweed suit, with a floral shirt, braces and dicky bow. Equally if you tend to opt for bold patterns and are up afraid to try the latest trends, a morning suit will feel like a straight jacket.