Something Old, Something New…
…Something Borrowed and Something Blue. This tradition comes from an Old English rhyme ("Something Olde, Something New, Something Borrowed, Something Blue, A Sixpence in your Shoe"). Supposedly a bride must add four objects to her wedding outfit or carry with her on her wedding day as good luck charms. Something old represents continuity; something new offers optimism for the future; something borrowed symbolizes borrowed happiness; something blue stands for purity, love, and fidelity (and a sixpence in your shoe is a wish for good fortune and prosperity).
Some may see this tradition as a bit dated, superstitious and quite frankly a bit of an unnecessary phaff. However, if you roam around the images on the likes of Pinterest you'll find some pretty creative and movingly sentimental ideas.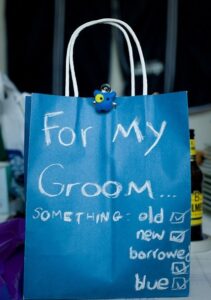 Something Old – A grandmother's locket, mother's wedding dress given a revamp by a clever seamstress, the groom's favourite classic car as the wedding car, family air looms, vintage perfume, photographs of parents and grandparents weddings displayed at the reception.
Something New – Well, let's face it the list is endless and is just a great excuse to have new things!
Something Borrowed – A friend's wedding veil, father's handkerchief (preferably unused), grandmother's pearls, a horse and carriage on hire…!
Something Blue – blue wedding shoes, toenails, fingernails, sapphire jewellery, handbag, flowers…
Here's an idea, why not extend the tradition to the groom? Who says these lucky charms are only implicit to brides? This time old tradition is a way of honouring family history, recognising the sacredness of marriage and creating symbols and expressions of who you are. What's not to love about that?